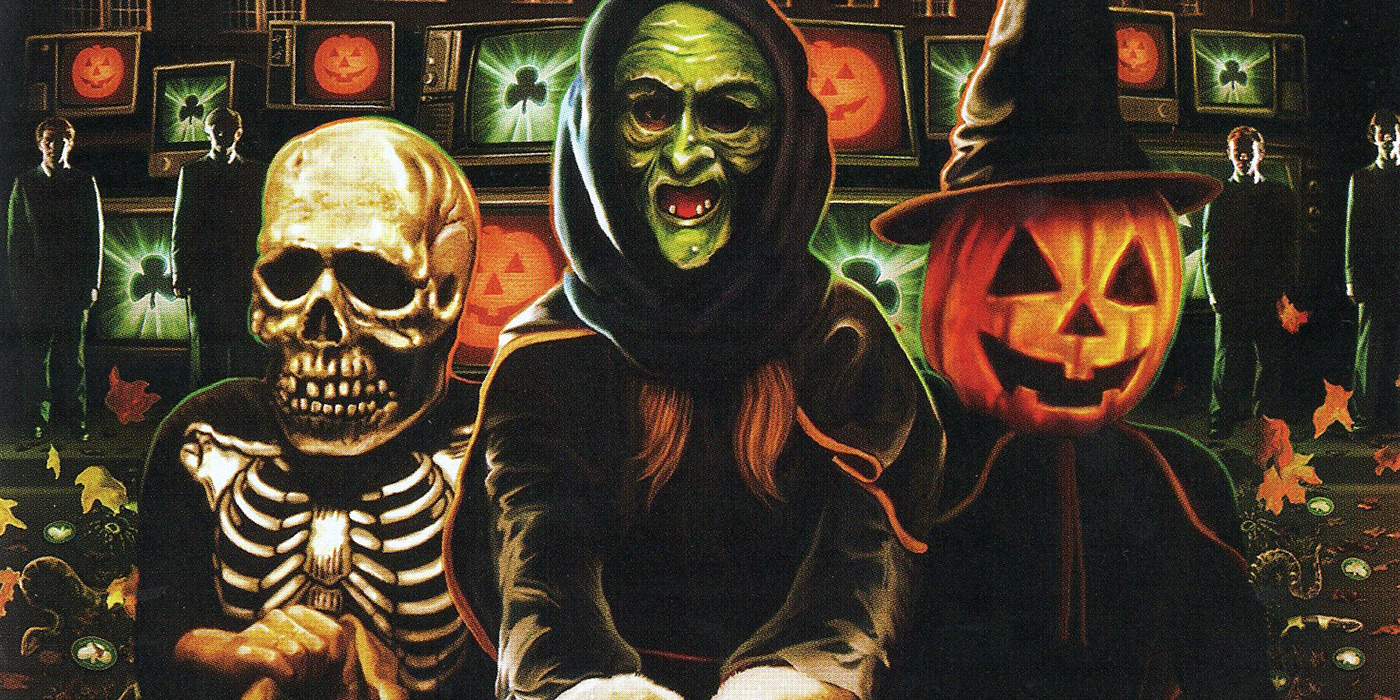 THE NIGHT NOBODY COMES HOME
1982 | 98 MINUTES | 2.35:1
---
Plot
When a terrified toy salesman is mysteriously attacked and brought to the hospital, babbling and clutching the year's most popular Halloween costume, an eerie pumpkin mask, doctor Daniel Challis is thrust into a terrifying Halloween nightmare. Working with the salesman's daughter, Ellie, Daniel traces the mask to the Silver Shamrock Novelties company and its founder, Conal Cochran. Ellie and Daniel uncover Cochran's shocking Halloween plan and must stop him before trick-or-treaters across the country never come home in this terrifying thriller.
want to read the full plot recap? click here.
---
Cast & Characters
Tom Atkins as Dr. Dan Challis
Stacy Nelkin as Ellie Grimbridge
Dan O'Herily as Conal Cochran
Michael Currie as Rafferty
Ralph Strait as Buddy Kupfer
Jadeen Barbor as Betty Kupfer
Brad Schacter as Little Buddy
Garn Stephens as Marge Guttman
Nancy Kyes as Linda Challis
Jonathan Terry as Starker
Al Berry as Harry Grimbridge
Wendy Wessberg as Teddy
Essex Smith as Walter Jones
Maidie Norman as Nurse Agnes
John MacBride as Sheriff
Loyd Catlett as Charlie
Paddi Edwards as Secretary
Norman Merrill as Red
Patrick Pankhurst as Technician
Dick Warlock as Assassin
Martin Cassidy as Watcher
Michelle Walker as Bella Challis
Joshua John Miller as Willie Challis
Jeffrey D. Henry as Motel Technician
Michael W. Green as Technician #2
---
Crew
Directed by Tommy Lee Wallace
Written by Tommy Lee Wallace; John Carpenter (original rewrites, uncredited); Nigel Kneale (first draft, uncredited)
Executive Produced by Moustapha Akkad, Dino De Laurentiis, Joseph Wolf and Irwin Yablans
Produced by John Carpenter & Debra Hill
Associate Producer: Barry Bernardi
Composed by John Carpenter & Alan Howarth
Edited by Millie Moore
Cinematography by Dean Candy
---
Goofs
The number of days until Halloween claimed in the Silver Shamrock jingle goes from 2 days to 3 days on the same day.
The digital clock in the room that Dr. Challis is locked in doesn't correspond with the actions in the scene. It goes from 7:45 to 7:50, despite the actions in the scene only being a few moments long.
Ohio and New York are shown to be in daylight, while states on the west coast are already in night.
want to read more goofs? click here.
---
Trivia
Tom Atkins stated during press for the film that a few different endings were shot, and he had no idea which would be used. Unfortunately, none of those alternate endings have ever surfaced.
Due to time restraints on the film's turn around, Stacy Nelkin was cast on the spot in her audition. She and Tom Atkins didn't have time to properly get to know each other before having to shoot their love scene as their first scene together.
With a timeline from Saturday, October 23 to Sunday, October 31, Season of the Witch actively portrays the most amount of days of any Halloween film next to Rob Zombie's Halloween remake.
want to read more trivia? click here.
---
Release & Reception
as of February 2023
Release Date: October 22, 1982
Budget: $2,500,000 ($8,890,908.53 in 2023)
Domestic Gross: $14,400,000
IMDb: 5.1/10
MetaCritic: 50 (MetaScore); 5.9/10 (User Score)
Rotten Tomatoes: 51% (Critics); 28% (Audience)
---
Home Video
curious about all the film's home video history? click here.
---
---
Alternate Versions
In comparison to the second film, Season of the Witch is rather tame when it comes to alternate versions. As the result of the film's 98-minute running time, television airings could simply censor any language and cut the scenes of violence short, and still not have a need to add any additional footage in. As such, Season of the Witch remains one of the few films in the franchise with no significant additional footage.
Several international versions of the film released in the 1980s would feature alternate sound mixes and even some alternate takes of the kills to account for foreign censors. More can be read about them on the home video releases page.
The most notable release is that of the 1998 GoodTimes DVD. The film is presented with an alternate sound mix. In addition, the decapitation and Marge's electrocution are slightly extended in this version. Though presented in letterboxed, content wise, it is the most uncut of all Season of the Witch releases.
---
---