'Legend of Halloween' Now Available
The Legend of Halloween follows Michael Myers, a little boy who, after doing terrible things grows up in an institution. Now grown, Michael escapes for a night of mischief and terror back in his hometown of Haddonfield, Illinois. From artists and authors David Gordon Green and Onur Tukel comes an imaginative illustrated retelling of the 1978 horror-film classic, originally written by John Carpenter and Debra Hill.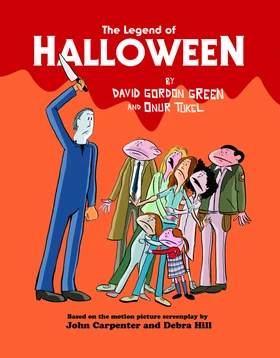 From the official website:
Michael Myers has been a naughty little boy. On Halloween night, he took a knife and did some very bad things. Luckily, he was caught and locked away in Smith's Grove Sanitarium. Dr. Loomis was determined to keep him institutionalized for the rest of his life. Dr. Loomis knew what was behind Michael's vacant stare… it was evil…purely and simply evil. Years later, Michael escapes and makes his way back to Haddonfield -the night HE came home – for some more mischief and mayhem. What is it about Halloween that drives this young man to kill? We might never know.

David Gordon Green is a writer and filmmaker who grew up in Texas enjoying films of the 1970's. He has written movies and television shows professionally and enjoys writing children's books, teaching and exploring the out-of-doors. He lives with his dog in Chicago.

Onur Tukel is a writer, director and children's book author. His books include Little Friends, Rainstack! and Help!!! There's An Elephant In My House. His films include Catfight, Summer of Blood and Applesauce.
You can buy the book from its official website legendofhalloween.com.